August 25, 2015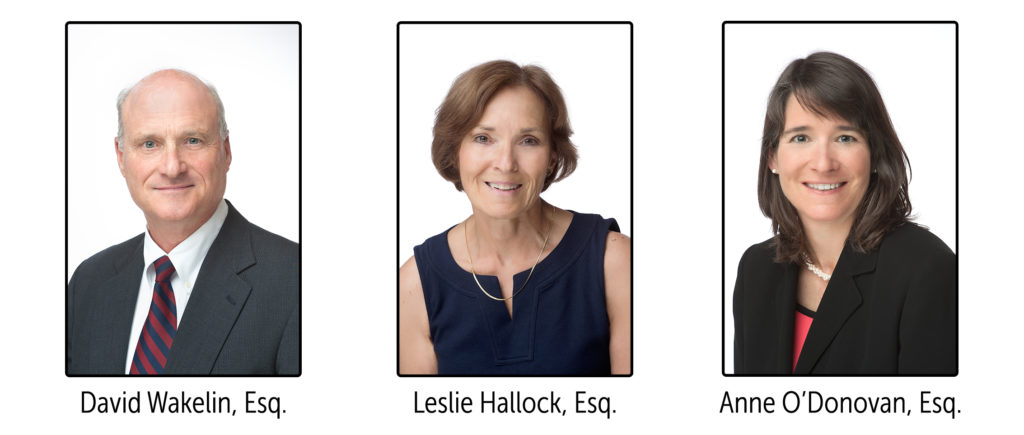 Portland, Maine – The Maine law firms of Eaton Peabody P.A. and Wakelin, Hallock and O'Donovan, LLP are very pleased to announce that on September 1, 2015, David Wakelin, Esq., Leslie Hallock, Esq., and Anne O'Donovan, Esq. will join their practice with Eaton Peabody based in the firm's Portland office. This expansion of Eaton Peabody's Portland office creates a premier Employee Benefits and Executive Compensation practice group that includes Eaton Peabody attorney Edward F. Feibel, who is a highly experienced employee benefits attorney.
"We are very proud to welcome Dave, Leslie and Anne to Eaton Peabody." stated David M. Austin, President of Eaton Peabody. "All three attorneys are extremely well respected and each has significant depth and experience counseling clients throughout Maine and beyond regarding complex employee benefit and compensation issues. They also represent the collegial culture and professionalism that we have at Eaton Peabody and we know they will build upon our firm's' long history and strong reputation as a provider of quality legal services."
"We are pleased and honored to be joining Eaton Peabody after practicing independently for 30 years here in Portland." stated David Wakelin. "Along with Ed Feibel, we will have a vibrant and experienced employee benefits group to serve our existing clients and Eaton Peabody's clients in Maine and throughout New England."
Dave Wakelin, Leslie Hallock, Anne O'Donovan and Ed Feibel will practice from Eaton Peabody's Portland office at One Portland Square. The ERISA and Employee Benefits practice is a specialized subsection group of Eaton Peabody's Employment Practice Group.