October 3, 2016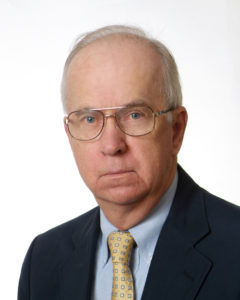 The law firm of Eaton Peabody regrets to announce the death on September 28 of Thomas M. Brown, a retired partner of the Firm, age 75. After a 50 year career at Eaton Peabody, he retired from the firm in 2015.
"Tom was a lifelong attorney at Eaton Peabody and in addition to our founders, was a cornerstone of the firm we are today," said Managing Partner, David Austin. "Words cannot describe Tom's larger than life persona and more importantly, the love, kindness and friendship he imparted on all who new him. We will miss him greatly."
Tom was born May 10, 1941, in Houlton, the son of Scott and Susie (Blanchard) Brown. A graduate of Houlton High School, he attended Bates College where he allegedly studied history, but really majored in pool and golf. He later received his law degree from Boston University and practiced law for 50 years at Eaton Peabody. Tom was an avid golfer and enjoyed countless rounds at Penobscot Valley and Houlton Golf Clubs.
Tom was a true "County Boy." He loved and cherished all things Aroostook – his lifelong friends, family roots, and the region's rich history. He was a true and loyal friend to those who knew him. He relished his monthly poker group, traveling with his wife of over fifty years, Gail, being with his dog Molly, puttering around his house in Georgetown where he always stoked his yard "burn" pile, and the annual hunting trip with his cronies, even though he never carried a gun. He was also an advocate for his adopted home of Bangor, always promoting its many strengths and helping raise support for the establishment of programs, including the Challenger Learning Center and The Children's Museum. He also served on the Maine State Board of Corrections and was an Army Reservist in the 1970s.
The Browns and Eaton Peabody would like to express their eternal gratitude to the anonymous family who in the face of death gave the gift of life to Tom through the donated heart he received in 1989. Tom lived his life to the fullest, grateful for each precious day. Deep gratitude also extends to the wonderful, caring and talented healthcare professionals at Eastern Maine Medical Center and Brigham and Women's Hospital, who cared from Tom over the past 35 years.
Tom is survived by his wife, Gail; son Win and his wife, Wendy, and their daughters Kathryn and Anya of Westford, MA; daughter, Jill Roberts and her partner, Kyle Kauffman, of Kannapolis, NC; son, Greg of Bangor; brother, Scott and his wife Carolyn; brother-in-law, John Hoxie and his wife, Diana; cousins, nieces and nephews, and his much-loved dog, Molly. He was predeceased by his son, Michael, and sister, Catherine.