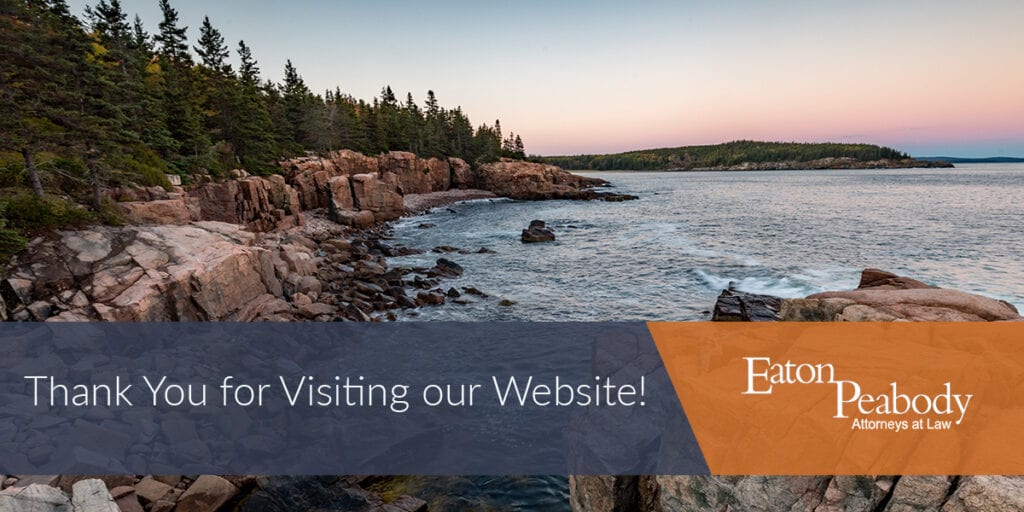 Please take a moment to learn more about our qualifications, our legal services and, most importantly, what Eaton Peabody can do for you.
Legal Professionals:
Eaton Peabody is a Maine-based law firm with 50 attorneys serving New England and Atlantic Canada from offices in Augusta, Bangor, Brunswick, Ellsworth and Portland.
Meet the Eaton Peabody Professionals
Office Locations:
Throughout our five offices, we combine the benefits of a large, full service law firm with the advantages of having an attorney closer to home. Our professionals utilize the firm's five office locations to be where our clients need them. As our clients grow geographically we have the ability to grow with them. All of our offices are electronically integrated allowing the professional with whom you are working to access your file at any time from any office. We have found that this approach enables us to deliver complex work product in a timely and efficient manner to a statewide client base.
Practice Areas:
Regardless of the practice area, our approach is to serve as facilitators and problem solvers. We are results oriented and strive to avoid "over lawyering." We get to know our clients and strive to anticipate potential legal issues and address them at an early stage rather than reacting after the fact. Our experience allows us to handle basic tasks in a timely and cost efficient manner. Our depth ensures that more complex matters receive thorough consideration from an attorney, or a team of attorneys, with hands-on experience in a variety of specialized areas.
Stay in Touch:
Follow us on Facebook and LinkedIn to learn about upcoming community events, legal seminars, and legal updates.