March 10, 2016
The rights of publicity that individuals have in the U.S. represent an interesting confluence of principles of copyright and trademark law.
The U.S. Supreme Court held years ago in Zacchini v. Scripps-Howard that it was a violation of aerialist Hugo Zacchini's rights for a broadcaster to videotape and play his entire performance as a human cannonball on the evening news without his consent. Applying two of the factors explicitly captured in Section 107's skeletal codification of copyright fair use law, the Court said that showing the entire act diminished the economic value of Mr. Zacchini's performance.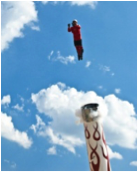 Even though the performance was not "fixed in a tangible medium of expression," as required in the Copyright Act to qualify a "work" as protected by copyright, the broadcast was treated by the Court as analogous to an infringement.
More recently, former California governor and strongman Arnold Schwarzenegger sued to stop the sale of bobblehead dolls depicting him in a suit and tie, with a bandolier of bullets and an assault rifle, and grinning broadly.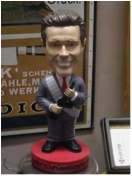 Gov. Schwarzenegger, who himself represents an interesting confluence of public performance and public service, reached an agreement with the manufacturer, before there were any rulings by the court. The manufacturer withdrew the dolls from the market and was allowed to substitute a new doll approved by the Governator's rights management company. Despite the settlement, the case is discussed in commentary as an example of an instance in which the economic and commercial value of a well-known celebrity image overshadowed the significant legal and policy-driven protection afforded to freedom of speech in this country. In this case, the image of the Governor's face and formidable musculature was treated as if it was his "trademark."
The right of publicity is another form of intellectual property, owned by every human being, that courts in the U.S. and elsewhere will protect from infringement.
Check out the IP@EP Blog for more Intellectual Property Articles – IP@EP