January 21, 2016
After a notable loss a couple of years ago in a prolonged IP lawsuit against a New Hampshire company selling coffee using the trademark "Charbucks," Starbucks recently won a relatively speedy victory as a defendant in a copyright infringement case brought by a New York artist. Between 2009 and 2011, artist Maya Hayuk painted five works using lines, stripes, and circles rendered in bold colors. This work, titled The Universe, appeared in her complaint as an example: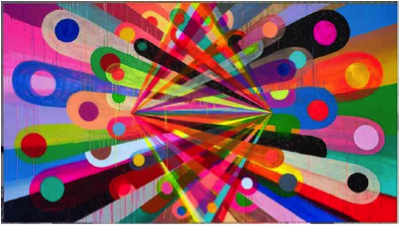 In late 2014, after Ms. Hayuk declined an offer from its agency to create artwork for an advertising campaign, Starbucks created graphics that appeared on coffee cups, on its website, and on signage at its retail locations. A sample of the cups with the related theme in the background was also included in the complaint: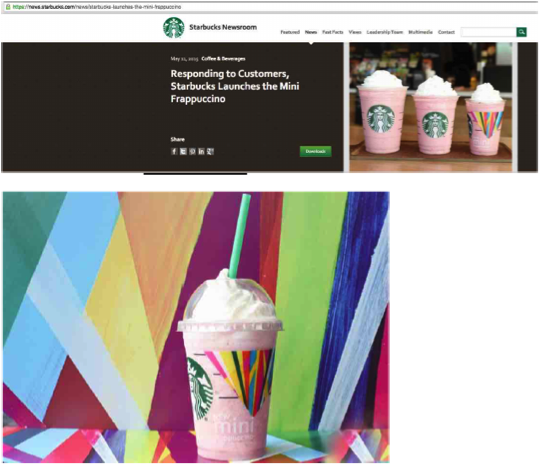 Hayuk filed suit in June, 2015. Starbucks and its ad agency filed a motion to dismiss which was granted on January 12.
In the opinion, the court declined Hayuk's requests to apply the "ordinary observer" test which asks whether "an ordinary observer, unless he set out to detect the disparities, would be disposed to overlook them, and regard [the] aesthetic appeal [of the two works] as the same." Instead, the court applied the "more discerning" observer test because, the court found, Hayuk used standard geometric forms and colors and textures which are the basic elements of artistic creation and are not protectable. Although this test required the consideration of the protectable elements of the work standing alone, apart from the standard elements such as shapes and colors, the principal question remained whether Hayuk's selection, coordination, and arrangement of the elements of the works, i.e., the "total concept and overall feel" of her paintings, were misappropriated by Starbucks in the ad campaign materials. The court said that the use of overlapping colored rays, which Hayuk described as the "core" of her work, is unprotectable and found no infringement.
Copyright infringement cases often raise close questions of law and this one is a good example. The facts suggest that the defendant set out to engage the artist because of qualities in her work that it found appealing. When it failed in that effort, it commissioned the creation of works that were similarly appealing. It is not unreasonable to conclude that a goal of the ad graphics was to duplicate the look, if not the "concept and overall feel," of the artist's works without enlisting her services or obtaining her permission. The outcome in this case will not discourage others from undertaking similar projects in the future.
There is no word yet on whether Hayuk plans to appeal.
Check out the IP@EP Blog for more Intellectual Property Articles – IP@EP